This project is made possible in part by the Queens Council on the Arts with public funds from the New York City Department of Cultural Affairs in partnership with the City Council.

Partial proceeds to benefit Newtown Creek Alliance
Recovered Landscapes: Newtown Creek is a suite of ten large-scale (60"x25") watercolor paintings on paper, and inkjet prints for fundraising, created to raise awareness of the revival of Newtown Creek and spark appreciation of the inherent beauty in its landscape.
I spent much of 2018 and 2019 biking around and boating on Newtown Creek, painting plein air watercolors. I wanted to expand these landscapes to a much larger scale, and in January 2019 the Queens Council on the Arts awarded me a grant to do so. A fundraising gallery event in October kicked off a month-long gallery show at the LIC Arts Open Gallery in Long Island City, New York. The show featured both small and large paintings, as well as fine art inkjet reproductions in a signed edition, with partial proceeds donated to the Newtown Creek Alliance, a non-profit environmental group.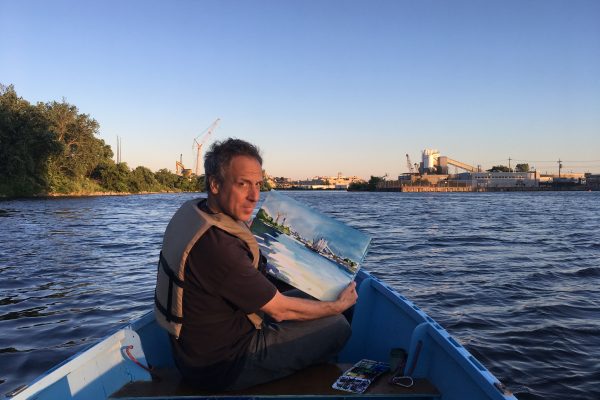 I love exploring Newtown Creek and painting the landscape in various weather and lighting conditions. I have always painted watercolors plein-air style, but the idea to paint Newtown Creek only came to me in recent years. One day in August 2018 FedEx left a note on my door, saying I needed to pick up a package at the FedEx facility in Maspeth. I drove out to the area, and was struck by the space and landscape. Massive warehouses sat next to 19th century buildings, municipal utilities, bus depots, and the remnants of New York's industrial history.
One of the first places I painted at Newtown Creek was at Plank Road, the site of a bridge that existed from 1837–1875 between Maspeth and Brooklyn. Support pylons from the structure still stick out of the water today, having been preserved by the lack of microbial life in the creek that otherwise would have eaten away at them. Next to the site there was an informational plaque, put there by an organization called the Newtown Creek Alliance. I decided I would contact them and learn more about restoration efforts along the creek. This led to a partnership whereby Newtown Creek Alliance has helped me gain access to the creek and creekside business owners, and I won a grant to develop larger paintings to sell to benefit NCA.