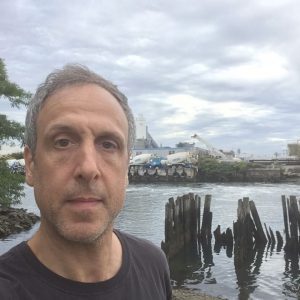 I am an artist working on paper in water-based media, primarily watercolor, gouache and acrylic. I also draw in pen and ink, and charcoal. For many years my paintings have been landscapes, rendered while traveling, but in recent years I have moved my work into the studio to expand these landscapes on a larger scale, and to draw, illustrate, and cartoon.
I decided to be an artist when I was a kid. There were a few inspiring moments; seeing Thomas Eakins' paintings at the Museum of Fine Arts in Boston, Mad Magazine, Terry Gilliam's animations, R. Crumb's cartoons, and probably most importantly the influence of my teachers. I particularly thank one art teacher at the public schools in Lincoln Massachusetts, Robert Treanor. When another teacher awarded me a commendation for "excellence in English class," he insisted my award be a book of M.C. Escher's prints. That book really set me on my path.
At Rice University in Houston, Texas, I studied painting with Bas Poulos and printmaking with Karin Broker, who both influenced me greatly. Bas showed me how to merge painting with travel, to look for the unexpected in subjects and the work, to unite painting and drawing, and he also brought many artists to my attention. Karin honed me as a technician, bringing out skills I didn't know I had, pushing me technically, and establishing a foundation in process which has helped me excel in all areas of graphic design.
I then moved to New York City where I have lived since, working first in the fine arts as a silkscreen printer for Rupert Smith, who printed for Andy Warhol. I editioned prints for Kenny Scharf, Michael Heizer, and Keith Haring, including one of his last editions, a collaboration with William S. Burroughs. I moved to Brooklyn when it was still a cheap destination for artists and found a community of friends in the arts and music.
An early job in interactive medical graphics, then exposure to Photoshop 1.0 lead to a career in graphic design, which I continue in to this day. My experience includes editorial illustration for newspapers, cartoon illustration and animation for children's media, and extensive work in print and motion graphics for national magazines. That work can be found at kitses.com.
In the meantime I paint landscapes, exploring the spaces where nature meets major roadways, especially highway overpasses. What first attracted me to these spaces was their incredible space, light and form. Then increasingly, I noticed the people, represented by their cars. I decided to take my practice onto the subway, and to draw more, using line as much as brushwork. These drawings from city life have informed my work in cartooning, and inspired a graphic novel I have in development.
I live in Jackson Heights, Queens, with my family, and work in promotions for magazine publishing. Painting and drawing occupy most of my free time, and when I'm not making political cartoons I can often be seen bicycling out to Newtown Creek paint the urban landscape.